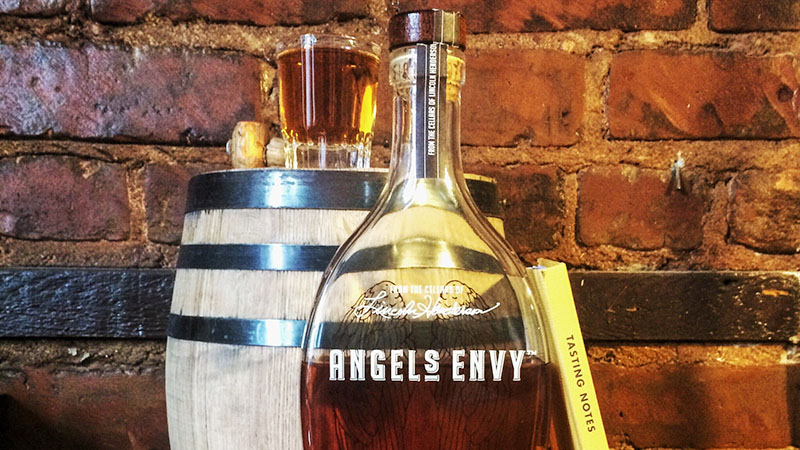 Angel's Envy: It's All in the Name
I am a self-described scotch snob with an affinity for single malts from the Speyside region but with this bourbon, it truly is all in the name. It is so smooth and tasty that even the angels want more than their share. The Macallan 12 year old is my go to whisky and I will drink it any time I can but living in the south can present a little bit of a problem when it comes finding decent malts when you go out. The same cannot be said for bourbons. The bourbon industry is going through a bit of a renaissance and as a result, I can always find a good bourbon when a Speyside malt is not to be found. Like with scotches, you will find a variety of price points and flavor profiles within the bourbon pantheon but none fit the bill nearly as well as Angel's Envy. It is something I have happily enjoyed whiling away the time with local adult beverage purveyors.
Like with all of my whisk(e)ys, I enjoy Angel's Envy neat. It pairs well with food but I enjoy drinking it on its own so I can dive deeper into the myriad of flavors with each sip. Unlike some other bourbons I have tried, this one is smooth without being too sweet which allows other flavors to surface while you enjoy it. This particular bourbon ages as most bourbons do in charred oak barrels but then this one is moved into special French oak port casks for an additional three to six months prior to bottling which might be what gives it some of the Speyside character I love so much in my scotches.
There are a lot of bourbons out there and the numbers seem to increase every day so it is often hard to figure out where to start. This is certainly not the least expensive bourbon on the market but it is far, far away from the other end. It is likely that based on price alone, people new to bourbon would hesitate to take this one home right away but this is one that everyone should try. The next time you make a pilgrimage to the liquor store, don't leave without a bottle of this to compare with other bourbons that you like and see for yourself some of the subtle complexity contained in this unique winged bottle.
Tasting Notes:
Color: Gold/Amber.
Nose: Notes of vanilla and maple syrup
Texture: Smooth and easy
Palette: Creamy vanilla, caramel, fruit and spices
Finish: Clean and Smooth with hints of syrup and nuts