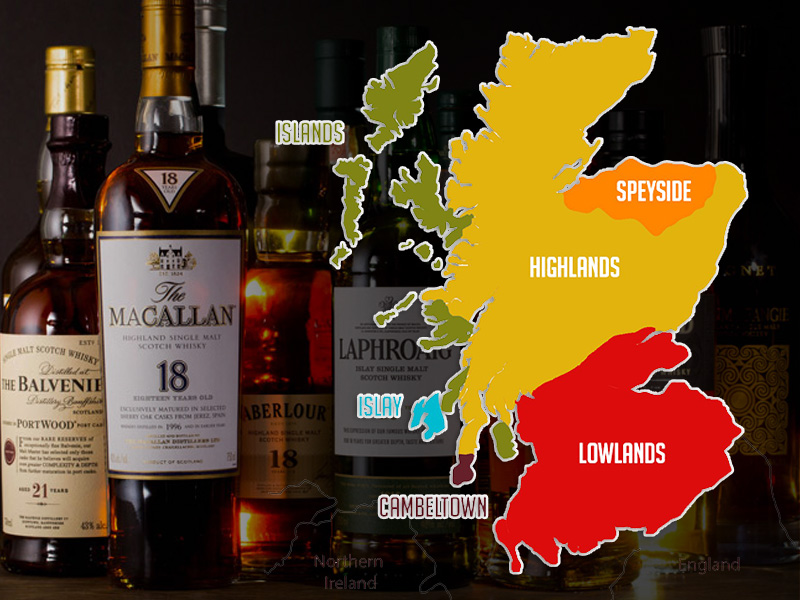 Scotch Regions, a Breakdown
The flavors and complexities of the Water of Life in Scotland can be broken down into distinct Scotch producing regions. Each region has its own character so if you find a malt that you like, chances are you will like other malts from the same region. There are five scotch whisky producing regions: Highland, Speyside, Lowland, Campletown and Islay.
Highland
The largest scotch producing region is by far the Highlands. As a result of its vastness, malts from this region can have very different flavor profiles that you will normally find from a single region. Overall they are more full bodied with notes of smoke and peat but they can range from the spicy character of the north to the more fruity character of the south. Good examples of the differences between Highland distilleries would be Dalmore, Oban and Gelnnmorangie.
Speyside
The highest concentration of distilleries in Scotland can be found in the Speyside region. Although it is technically part of the Highlands, this region is set apart by its unique character. The region gets its name from the river Spey that runs through it and provides the water used in most of the regions distilleries. Speyside whisky are generally considered to be the most complex with sweeter flavors and aromas. Speyside is home to single malts like The Macallan, Aberlour, Balvenie and Genfidich, as well as a number of popular blends like Johnny Walker and Chivas Regal.
Lowland
The Lowlands can be found at the southern end of Scotland. Lowland whiskies are generally known for their light taste and soft body. Auchentoshan and Glenkinichie are good representations of the region as a whole.
Campletown
Located on a southern peninsula, the malts here are more peaty with a briny character. Once the center of whisky production in Scotland, the region is now home to only three distilleries: Glengyle, Glen Scotia, and Springbank.
Islay
Whisky produced in the Islay (pronounced "eye-luh") region are considered to be the smokiest and strongest-flavored single malts available. Often using things like seaweed in their malting process, Islay distilleries like Laphroaig, Lagavulin, and Bowmore produce complex malts with peat, smoke and salinity that lends themselves to a more antiseptic flavor.
Although not technically a region, island malts like those from Jura, Skye and orkney are very similar in character to those of their Islay cousins but appear in a much milder form. Highland Park and Talisker are good examples of island malts.
Individual tastes can vary greatly so when starting out, it is important to sample malts from the different regions to see what each has to offer. A malt that is too sweet or too peaty to one person can embody the perfect balance of complexity to another so once you find something that strikes your fancy, make note of the region and enjoy the choices that await.