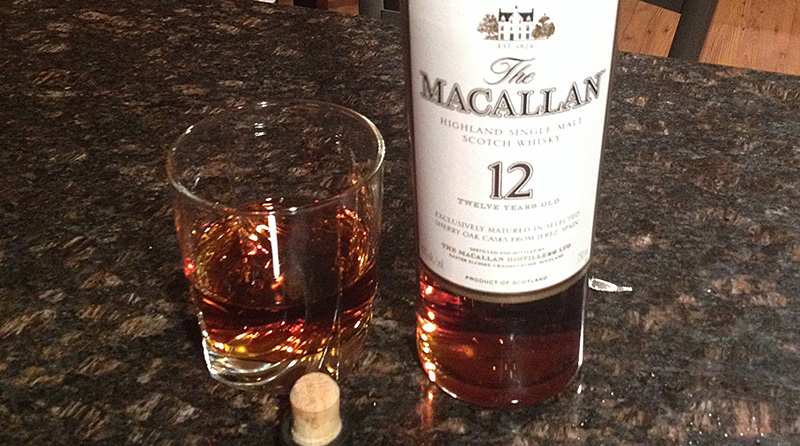 The Macallan…Need I say more?
The Macallan, in my opinion, is the height of whisky perfection. They have many fine malts ranging from their ten year old all the way up to their thirty year old and beyond. I have only had the occasion to try the ten, twelve, fifteen, eighteen, cask strength and thirty year old but they never disappoint. I am partial to darker malts so the twelve year old and eighteen year old stand out for me with the twelve year old being the only staple on my bar. Don't get me wrong, I enjoy every one and at several points in my life I have had them all sharing space on my bar at the same time but no matter what whisky I try (whether or not it has an "e"), I always come back to The Macallan Twelve Year old.
I enjoy my whisky neat. I will sometimes add a drop of water to open up some of the hidden flavors but it is not required to really love this malt. The tasting notes are complex and like most malts coming from my favorite Speyside region, they are on the sweeter side. The malt is deep and rich in color with honey smooth texture and the nose is full of vanilla and dried fruits. The taste is fruity and spicy at the same time with notes of raisins, plums and toffee with spicy hints of orange, cinnamon and nutmeg. The finish is superb with lingering notes of the toffee and spices.
I tried many malts prior to my first encounter with The Macallan twelve year old and many more since and it still reigns as my go to favorite.
In recent years, the price for single malts have skyrocketed preventing many newcomers from discovering the joys of the water of life but for anyone looking for a good single malt, even if you have never tried scotch, you would be hard pressed to find a better place to start your journey than with The Macallan Twelve Year .
Tasting Notes:
Color: Deep Gold.
Nose: Notes of vanilla and dried fruits
Texture: Rich and smooth
Palette: Fruity and spicy. Notes of raisins, plums and toffee with spicy hints of orange, cinnamon and nutmeg.
Finish: Smooth with lingering notes of the toffee and spices