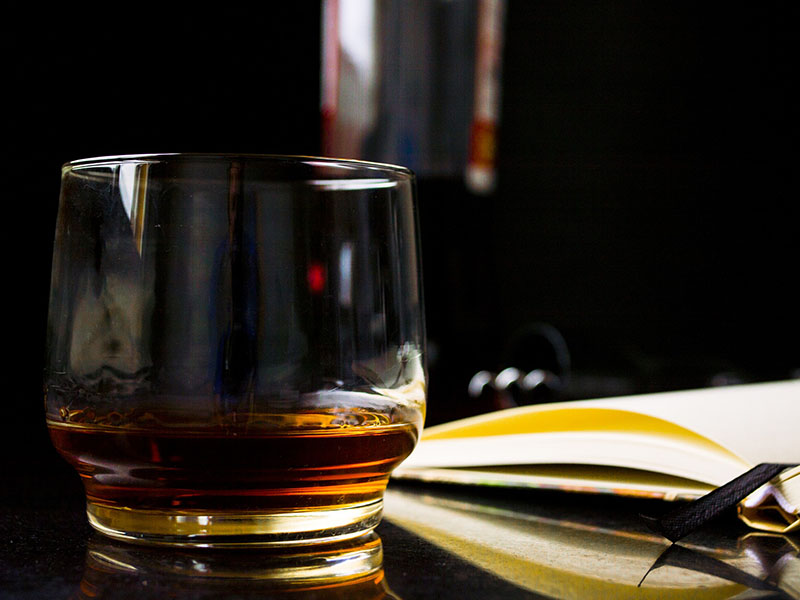 What does that mean? A Glossary of Whisky terms.
In our previous article, "Is it Whisky or Whiskey and what is the difference?", we discussed the basic definition of whisky, the spelling differences and some of the types. Now we will dive deeper into some definitions for common terms used when discussing the water of life in all of its forms:
ABV
Alcohol by volume. The alcoholic strength measured as the percentage of the whisk(e)y.
Angel's Share
The amount of whisk(e)y lost to evaporation during storage in the cask. Approximately 2% for each year of maturation.
Barrel proof
Also referred to as Cask Strength. Barrel proof whisk(e)y is taken straight from the cask and bottled without being diluted with water.
Bottled in Bond or Bonded
Refers to whisk(e)y that has been aged and bottled according to the stipulations laid out by the "Bottled-in-bond Act of 1897". The whisk(e)y in question must be the product of a single distillation season, from one distiller at a single distillery. It must be held for at least four years in a federally bonded warehouse and bottled at 50% ABV.
Charring
A process for burning the inside of new barrels to enhance the flavor of the whisk(e)y as it is stored. The process caramelizes some of the sugars in the wood enhancing both color and flavor of the whisky. Originally discovered as a technique by Elijah Craig the Bourbon manufacturer who used some barrels that had caught fire to store his Bourbon
Chill filtration
A highly controversial for it is said to remove flavor and body from the whisk(e)y. It is a method of filtering whisk(e)y to remove residue and a cloudiness which appears when the spirit reaches lower temperatures. Chill-filtration involves chilling the spirit to between -10 and 4°C and then passing it through a very fine filter. Some labels specify "Non-Chill Filtered" to indicate that this process was not used for a particular whisk(e)y.
Distillation
The process for whisk(e)y production. The wash is heated in a copper pot still to separate the alcohol from the water. Since alcohol evaporates at a lower temperature than water, the separation takes place at about 176 degrees F,  Whisk(e)y is often distilled two or more times in order to refine the distilled spirit.
Dram
A term used for a measure of whisk(e)y. It was originally an amount that was supposed to equal to 1/8 ounce but over time it has come to mean a pour of a size determined by the person pouring.
Malting
Most often used in the making Scotch whisky. A process in which barley is wet and then spread on the floor of a malting house. the water allows the barley to germinate, allowing a chemical change to take place where the starch in the grain turns to sugar that will ultimately produce alcohol. The barley is kept at an even temperature and turned regularly during the process. At the end of the process the barley is dried in a heated kiln to stop the germination process.
Proof
Another method of defining the alcoholic strength of a whisk(e)y. In the United States it is defined as twice the percentage of alcohol by volume (ABV) so a whisk(e)y that is 90 Proof would be 45% alcohol by volume. Proof statements can vary from country to country so when in doubt, it is better to go with the stated ABV rather than the proof statement.
Proofing
Stories vary on the original source of the term but it is generally considered to be an old school way of determining if whisk(e)y was too watered down. It is the process of pouring some whisk(e)y onto gunpowder and lighting it with a match. If it ignited, it was "proof" that it was good whisk(e)y. As a rule, a minimum of a 50% alcohol-water mixtures should allow gunpowder to catch fire.
Single Malt
A bottling of whisk(e)y distilled from a fermented mash made with malted barley that is distilled using pot stills, comes from a single distillery and is not diluted with grain whisky. The term is generally used in reference to Scotch.
Wash
A kind of raw beer produced during the fermentation process, which is then distilled to make whisk(e)y
Wort
A sugary liquid produced during the mashing process which is fermented to produce the Wash necessary to distill whisk(e)y.
There are dozens of other terms also used when discussing this, the most interesting of topics, but these will allow you to take part is all of those conversations you really want to join.